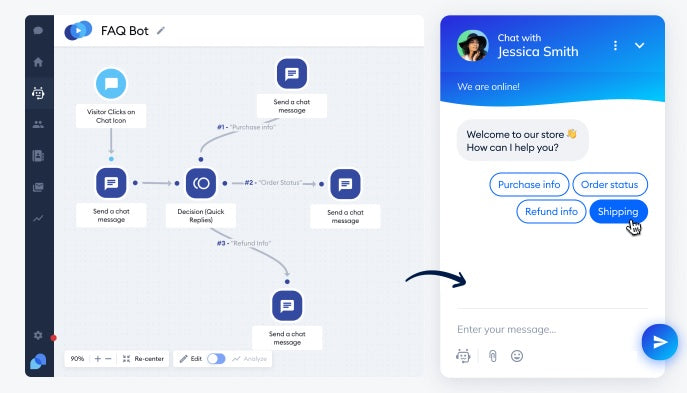 Whatsapp Chatbot
Sale price

Rs. 10,000.00
Regular price
(/)
---
Introducing our WhatsApp Chatbot Solution:

In today's digital landscape, instant messaging has become an integral part of customer communication. Our firm offers a powerful WhatsApp Chatbot solution that enables businesses to automate conversations, provide quick support, and enhance the overall customer experience.

Key Features and Benefits of our WhatsApp Chatbot:

Automated Customer Support: Our WhatsApp Chatbot is designed to handle customer inquiries and provide instant responses 24/7. It can answer frequently asked questions, provide product information, assist with order tracking, and more. By automating these processes, you can save time and resources while ensuring prompt and consistent support.

Personalized Conversations: Our Chatbot can be programmed to gather customer information, such as name, order history, and preferences, allowing it to deliver personalized responses. This personalized touch enhances customer engagement, making them feel valued and understood.

Quick Response Times: With our Chatbot, customers receive instant responses to their queries, eliminating the need to wait for human agents. This significantly reduces response times and enhances customer satisfaction, as they get the information they need without delay.

24/7 Availability: Our Chatbot works around the clock, enabling customers to reach out for support at any time. This ensures that your business is accessible to customers outside of regular business hours, enhancing convenience and customer loyalty.

Seamless Integration: Our Chatbot can seamlessly integrate with your existing systems and databases, such as CRM or order management systems. This enables the Chatbot to access real-time information and provide accurate responses based on the most up-to-date data.

Scalable and Customizable: Our Chatbot solution is highly scalable, capable of handling large volumes of customer inquiries simultaneously. Additionally, it is customizable to align with your brand's voice, tone, and specific requirements. We can tailor the Chatbot's responses and functionalities to meet your business needs.

Analytics and Insights: Gain valuable insights into customer interactions with our Chatbot through comprehensive analytics and reporting. Understand customer preferences, popular queries, and areas for improvement, allowing you to continuously optimize and enhance the Chatbot's performance.

Our experienced team will work closely with you to develop and deploy a WhatsApp Chatbot that suits your business objectives and customer needs. We ensure a smooth implementation process and provide ongoing support to ensure the Chatbot operates seamlessly.

Take advantage of our WhatsApp Chatbot solution and revolutionize your customer support experience. Empower your business with automation, personalized interactions, and round-the-clock availability. Contact us today to discuss how our WhatsApp Chatbot can transform your customer communication and streamline your operations.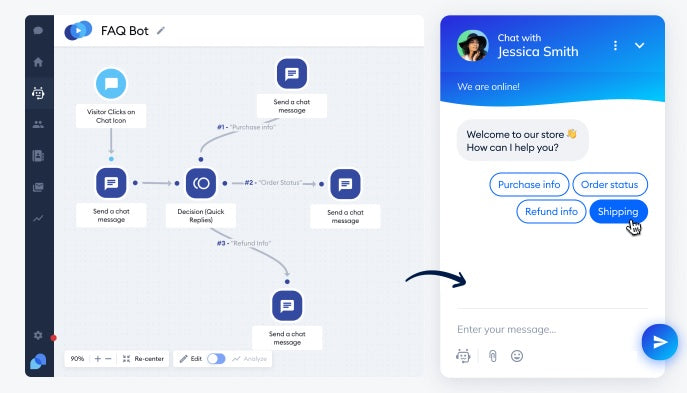 Whatsapp Chatbot
Sale price

Rs. 10,000.00
Regular price
Choose options